KD-EXWPSTx

Single Gang HDMI USB-C over 50m CAT5e/6 Wall Plate Switcher Transmitter. 4K/UHD, 18G, Power over CAT, Auto Switching. DISCONTINUED: REPLACED BY KD-XWPS.
Sales Team is here to help you with an integration question or to find a distributor:
Email Sales
or call us or at
+1 914-667-9700
where to purchase
introduction
Key Digital® KD-EXWPSTx is a single-gang wall-plate transmitter + presentation switcher with one HDMI and one USB-C input ideal for professional video installation in conference rooms, huddle spaces, classrooms, and more. KD-EXWPSTx utilizes Key Digital's proprietary UHDoTP extension technology and is natively received by KD-EX18GRx receiver (sold separately). In addition to HDMI video and audio signals, KD-EXWPSTX features an IR sensor on the face of the plate to carry IR for controlling remotely located equipment. KD-EXWPSTX is configured using the USB connection and KDMS Pro software to apply settings like 4K to 1080p down convert, EDID handshake control, and hot plug detection for overcoming common systems integration obstacles. The wall-plate unit fits in a standard US single-gang box and is powered by the Rx unit for convenient installation.

Features
Presentation Switching: 1 HDMI and 1 USB-C selected by push button, auto switching, or USB

Rx Options: Native integration with KD-EX18GRx (sold separately). Future Rx options will be released. 

Auto-Switching: Automatic selection of newly detected source and switching from newly disconnected source when enabled.

Decora Included: Brushed aluminum decora face plate included. 

Ultra HD/4K: Supports up to 4096x2160 or 3840x2160 24/25/30/60hz at 4:4:4 (signals up to 18Gbps bandwidth) 

Visually Lossless Compression: 18G enabling technology applied to all video formats exceeding 10.2Gbps to accommodate UHDoTP transmission channel

4K to 1080p Down Convert: Optional resolution conversion applied at UHDoTP output provides added integration options in retrofit installations as well as added distance performance

10G Pass-thru: Mode enables uncompressed 10.2 Gbps signal extension

Power over CAT: Wall plate Tx unit powered by KD-EX18GRx (sold separately) 

Ease of Integration: Complete configuration using Key Digital Management Software™ Pro 

HDCP Licensing: Fully licensed and compatible with HDCP 2.2 

HDR10 (High Dynamic Range): More life-like images through a greater range of luminance levels

Signal Extension: For resolution and cable quality 

4K/UHD (18G): Up to 35m / 115ft 

1080p: Up to 50m / 164ft 

Minimum: 5m / 17ft CAT5e/6 cable length required for all resolutions

Full Buffer System™: Manages TMDS re-clocking / signal re-generation, HDCP authentication to source & display, EDID Control handshake, and Hot Plug Detection Voltage 

EDID Management: Internal library with 12 internal EDID handshakes including 4K with HDR in addition to native EDID data copied from the Rx IR Sensor: Wall-plate collects line-of-sight IR from remote(s) without external IR wiring 

Surround Audio Support: Dolby®, DTS™ (formats up to 5.1 / 6.1)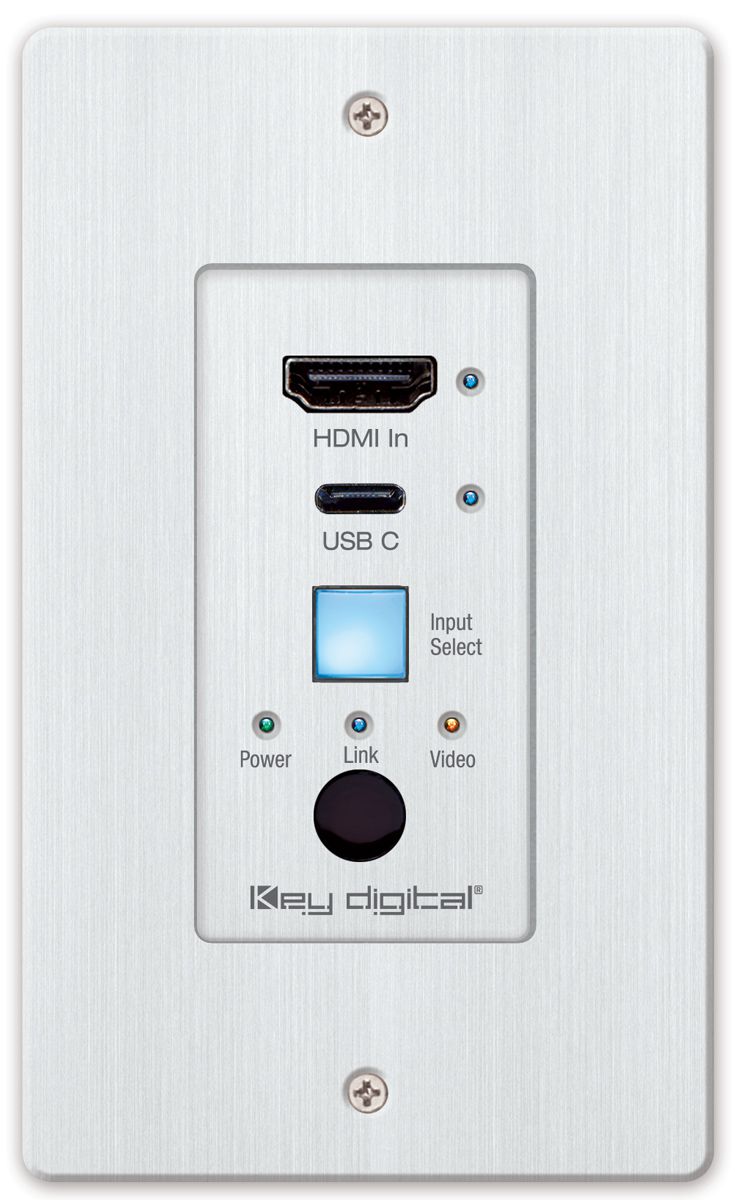 Additional Features
downloads
Operating Manual v1.1
Quick Setup Guide
Hires Image
Diagrams
Application Example
specifications
Technical
AV Inputs: 1x HDMI, 1x USB C 

AV Outputs: 1x UHDoTP RJ45

DDC Signal (Data): Input DDC Signal: 5 Volts p-p (TTL)

HDMI Video/Audio Signal: Input Video Signal: 1.2 Volts p-p

USB C Signal: Input Video Signal: 1.2 Volts p-p

RJ45 Connectors: Shielded Link Connector, UHDoTP

Unit Control: TCP/IP on RJ45, Bi-directional RS-232, Serial IR, IR sensor, USB Micro

RS-232 Connector: 1x 3-pin terminal for unit control, 2x 3-pin terminal for pass-thru to/from UHDoTP Input and UHDoTP output

IR: 1x IR Sensor
General
Regulation: CE, RoHS, WEEE, EAC

Wall plate: U.S. 1-gang wall plate in aluminum enclosure 

Decora plate: Brushed aluminum

Product Dimensions: 1.92 x 4.13 x 1.42" (49 x 105 x 36.2 mm)

Product Weight:  Weight: 0.6 lbs / 0.27 kg

Packaging Dimensions: 7.28 x 3.35 x 2.17" (185 x 85 x 55mm)

Packaging Weight: 3.0 lbs / 1.36 kg
accessories
Qty 1: Brushed aluminum decora plate

Qty 2: Decora mounting screws with flat head 

Qty 2: Gang-box mounting screws

Qty 1: 6ft Micro USB to USB A data cable (USB 2.0)
specifications
Technical
AV Inputs: 1x HDMI, 1x USB C 

AV Outputs: 1x UHDoTP RJ45

DDC Signal (Data): Input DDC Signal: 5 Volts p-p (TTL)

HDMI Video/Audio Signal: Input Video Signal: 1.2 Volts p-p

USB C Signal: Input Video Signal: 1.2 Volts p-p

RJ45 Connectors: Shielded Link Connector, UHDoTP

Unit Control: TCP/IP on RJ45, Bi-directional RS-232, Serial IR, IR sensor, USB Micro

RS-232 Connector: 1x 3-pin terminal for unit control, 2x 3-pin terminal for pass-thru to/from UHDoTP Input and UHDoTP output

IR: 1x IR Sensor
General
Regulation: CE, RoHS, WEEE, EAC

Wall plate: U.S. 1-gang wall plate in aluminum enclosure 

Decora plate: Brushed aluminum

Product Dimensions: 1.92 x 4.13 x 1.42" (49 x 105 x 36.2 mm)

Product Weight:  Weight: 0.6 lbs / 0.27 kg

Packaging Dimensions: 7.28 x 3.35 x 2.17" (185 x 85 x 55mm)

Packaging Weight: 3.0 lbs / 1.36 kg
accessories
Qty 1: Brushed aluminum decora plate

Qty 2: Decora mounting screws with flat head 

Qty 2: Gang-box mounting screws

Qty 1: 6ft Micro USB to USB A data cable (USB 2.0)