ReAdvantages of HDBaseT vs HD SDI
By Mike Tsinberg - December 3, 2014
HDMI is often compared to HD-SDI for various Video Audio installations. However, fare comparisons have to be made between HDBaseT often used to deliver HDMI and HD-SDI.
Basic Comparison:
HDMI is developed on top of DVI that added Audio, CEC, ARC and Ethernet. HDCP is always optional with HDMI. You may or may not use HDCP with HDMI. HD-SDI never had HDCP option. HD-SDI uses high quality coaxial cable and lock in BNC connector while HDMI is basically designed around four shielded twisted pairs and seven extra wires. So HDCP should not be the issue in this comparison since HD-SDI does not offer HDCP. Interestingly HD-SDI has no upstream channel. The Source has no idea about the display or sink device. HDMI has many upstream channels: EDID reports about monitor prefer formats in Video and Audio, CEC allows bi-directional control channel, ARC allows send back digital Audio, Ethernet channel allows bi-directional 100 Mb/s Ethernet. HD-SDI does not offer any of these: EDID, CEC, ARC or Ethernet. HDMI uses special 19 pin connector and cable consisting of 4 twisted pairs plus 7 wires. HD-SDI uses one coaxial wire. So HD-SDI can be terminated in the field while HDMI cannot.

That is where HDBaseT comes in. You really have to compare HDBaseT to HD-SDI. HDBaseT is a very advanced technology using modification of 10GBaseT Ethernet technology. All HDMI features: Video, Audio, EDID, CEC, ARC or Ethernet are supported by HDBaseT and are sent through standard CAT5e or CAT6 twisted pair cable that could be terminated in the field with a RJ45 connector. HDBaseT adds additional signals to that single CAT5e/6 connection: bi-directional RS232 and IR both directions. The cost of a twisted pair cable and termination is always lower for CAT5e/6 + RJ45 than for a coaxial cable and BNC connector for HD-SDI.
Connectors:
HDBaseT uses regular RJ45 connectors with lock in. HD-SDI uses BNC connectors with lock in.
Cost:
HDBaseT regular CAT5e/6 cables and RJ45 connectors used for Ethernet connectivity are drastically cheaper than high quality high bandwidth Coax and high quality BNC connectors for HD-SDI.
Length:
The SDI for 480i resolution (Standard Definition) can run 230m. The HD-SDI for 1080p can run 100m. The 12G-UHD-SDI needed for 4K/60 is reported working only up to 70m. HDBaseT for 1080p can run 200m. HDBaseT for 4K/60 can run up to 110m. So as far as 1080p and 4K HDBaseT outruns both 3G-HD-SDI and 12G-UHD-SDI.
Scalability:
HDMI + HDBaseT can be used without any HDCP. It's fully scalable and support all VESA VGA formats.
Time Code:
HDMI and HDBaseT are not designed with provision of Time Code. However, HDMI has many audio multi-channel formats and control data stream links. I believe you can find lot of third party devices that insert audio into existing HDMI stream. I think if need arises such devices can insert regular audio on some audio channels and Time code on other audio channels that will be delivered on the other end through HDBaseT as well. Time code also can be inserted in IR, RS232 or Ethernet channel available in the HDBaseT.
Transmission Distance Charts:
Below is length chart approved by HDBaseT. The cables here are usual. If Key Digital KD-CAT6STP1X is used - you can add 20% in distance: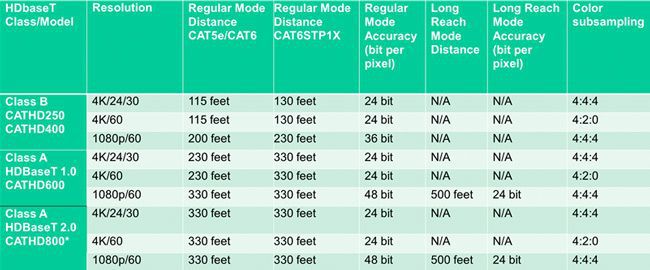 Below is the table published by Belden cable (source
) for best 3G-HD-SDI performance for 1080p/60.
Conclusion:
HDBaseT with HDMI is proven to be commercial and residential video segment connectivity leader with millions of installs. In recent 3 to 4 years ALL manufacturers and ALL installations are deploying HDBaseT as a standard of choice for Digital Video, Audio, EDID, CEC, ARC or Ethernet connectivity with unmatched price and quality.

Learn More About HDBT Products
Discover Key Digital HDBaseT Products.