How to fix HDMI and HDCP connectivity with four layers of buffering
By Mike Tsinberg - June 5, 2015
Key Digital has been making HDMI products for more than 9 years. HDMI is not a regular one way Video signal interface such as VGA, Component, Composite, SDI and etc. Its high speed digital AV one way – TMDS - and four more bi-directional signals that control its performance: HDCP – content copy protection, EDID – Video and Audio display format preference, CEC – Command and Control bus and HPD - Hot Plug Detect signaling for detection of HDMI connection. In addition HDMI carries two more bi-directional signals that are used for external services to HDMI connection: ARC – Audio Return for Display to the source and HEC – Ethernet channel available inside HDMI cable.
All Key Digital products to some degree implement the four layer buffering technology. Key Digital KD-HDFIX22 implements ALL four layers of buffering mechanisms specifically to help improve HDMI connectivity for other brands. However, KD-HDFIX22 is not designed to circumvent HDCP2.2 to HDCP1.4 interface. It follows these two basic rules:
HDCP1.4 input will pass to be displayed on HDCP 2.2 display.
HDCP 2.2 input will not pass to display on HDCP 1.4 display.
Our experiences indicated that we need to use a special four layer buffer in order to avoid HDMI connectivity mistakes and create solid reliable HDMI interface:
1. Re-Clock – Clean up data degraded in the connecting cables and equipment
Digital AV high speed signal traveling on four twisted pairs inside HDMI cable always goes through degradation usually called "jitter". Jitter degrades clarity of rising and falling edges of digital signal closing a so called "data eye". That in turn increases possibility of losing data. The first layer of Buffer re-clock detects incoming "jittery" data and uses threshold method slicing incoming signal to recreate completely clean and free of jitter output data. Of course quality of re-generated data depends not only on slicers but quality of newly generated clock. That method allows continuing with clean TMDS data after in passes Key Digital products: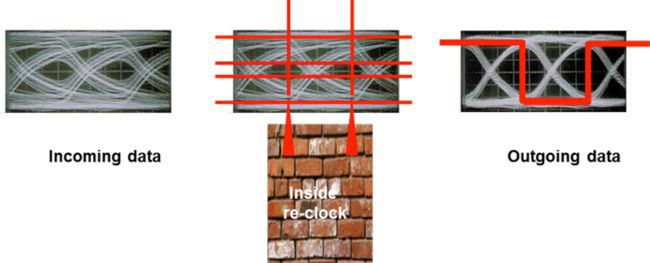 2. EDID control – removes EDID misunderstanding and gives installer full control
EDID intention was to remove any decision making from consumer in regards of what is the best video and audio format should be sent form HDMI source to display. However, for Custom marketplace it is more hindrance then help. For example, regular TV requests 2-ch stereo as audio format from the source while this installation actually would appreciate a multichannel audio such as Dolby Digital 5.1 or others. Another example is when one signal is distributed to multiple monitors with different resolution capability and audio requirements - what EDID should be used? To solve these problems and also problem of misunderstanding between source and display we use EDID control. That buffering function consists of pre-configured EDID files that stored in our products. Integrator may choose one of the pre-configured files or copy EDID file from any display:

3. HDCP buffer – removes Source to TV misunderstanding and single key limitations
HDCP handshake is also often misunderstood on both source or display ends. If HDCP data is corrupted or improperly written the signal cannot be displayed. Additional problem is when source equipment does not store enough HDCP keys to enable more than one display connected to a matrix switcher or distribution amplifier. For these two reasons we perform HDCP buffering. Incoming HDCP keys are terminated on the input of our products and each output creates a new HDCP key for the display. This procedure allows fixing some of the HDCP errors and enabling multi-display.

4. Hot Plug Buffer - removes misunderstanding of Display active to the source
Recently the Hot Plug surfaced as a possible source of misunderstanding between HDMI source and display. Hot Plug used to be a static signal that inly changes with HDMI cable plugged into HDMI port. However, recently some of the "intelligent" HDMI displays use Hot Plug to re-initialize the connection when some of the other interactive data described above is missed or misunderstood. The re-initializing can be a series of rapid Hot Plug pulses that sometimes making source to freeze. We created Hot Plug buffer to filter that problem and avoid freezing of the HDMI source to Display connection:

All of the Key Digital® Matrix Switchers, Switchers, Distribution Amplifiers, Extenders and HDMI fixers that feature "Full Buffer" perform all four aspect of this buffering system.
HDCP2.x is a new standard introduced to protect UHD/4K content at 60fps with [4:4:4] color-spacing. In order for this content to be output and displayed, all connectivity points must support HDCP2.x. The below devices have been verified in the Key Digital Labs. As with other new technologies, a broad observation of HDCP2.x is that various source devices behave differently; some UHD/4K sources are capable of outputting video signals that do not require HDCP2.x authentication (ie UHD/4K at 30fps, 1080p, etc), while other sources require HDCP2.x authentication. Ensure the integrity of your UHD/4K video distribution system by referring to the below chart. This chart will be updated with new video source equipment and Key Digital products as they are released to the marketplace.

Learn More About HDMI Buffers

Discover Key Digital HDMI Buffers and Extenders